Online Watch Auction Software designed for watch auctioneers
We are the online auction experts, offering outstanding, dependable online watch auction software to auctioneers all over the world. We have over ten years of experience in the auction sector.

All common online auction forms, including timed and live webcast formats, are supported by our software. To ease the frequent sale of timepieces, the system also includes an online marketplace as standard. We can offer a full-service online auction platform that is designed to facilitate sales with all four forms and more.
Feature-rich watch auctions could be running straight off your own website
You can sort watches using our intelligent filtering system according to brand, colour, gender, or style; the option is yours. When an item of interest is uploaded to the system, your registered online bidders will receive customised e-alerts from the system thanks to its integration with a clever e-marketing platform.
Your admins will adore the variety of options provided by the system, especially with our other fantastic admin features like invoicing, bidding, and sale management.
To accommodate the needs of the worldwide bidder, the system can be adjusted with local currencies and languages. So why not expand your market by using the power of the internet to target new geographic areas? Starting a business is so simple, and there are no startup expenditures.
A smart auction platform to boost online watch sales
Our auction software is an effective platform known for boosting online auction sales over the world. Because it's run on your website, accessing and interacting with your auctions couldn't be easier.
Our software is built using the latest technologies in HTML5 meaning that the platform will run smoothly across all modern browsers, mobile phones and tablets. Unlimited photo uploads, PDF attachments, videos on a a per lot basis plus as much lot text description as you require will leave you with the best opportunities to showcase your products.
Email outbid notifications, pre-bidding, bid extension and lot staggering come as standard within our sales, providing feature-rich options to stimulate bidding on your online platform.
Get in touch to learn more about how we can help you sell more watches online today.
Online auction solutions for your business
🎥 Live Webcast Auctions
⏳ Timed Online Auctions
📈 Marketplace
👩‍💻 Remote Clerking option
✅ Everything you need & will run from your own website
🏷 White Label Auction Software – 'value protect your bidders & IP' ( Not a group site
)
So modern works on all devices without frustrating bidders to download apps
🧑‍💻 Includes Setup, Training & Local Ongoing Support
🧾 Auction invoicing & reporting
🖥 Websites & marketing
😊 Simple for bidders and powerful for auctioneers
So ready to get started?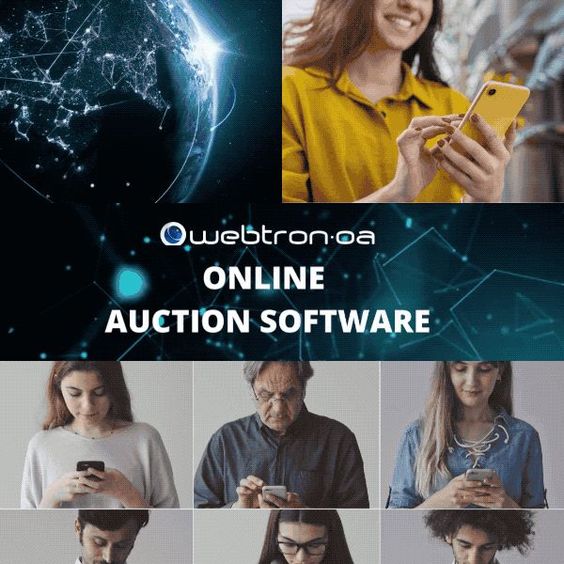 The New Webtron 7.2 Auction Software is here
There has never been a better time to upgrade your online auction software to Webtron's 7.2 newest auction software release.
Webtron 7.2 has been designed for Watch auctioneers like you to take your online auction business to another level. Get ahead of your competition and take advantage of a white-label auction solution that runs from your very own website.
It's 'Simple for bidders and powerful for auctioneers'.
Get in touch for a free, no-obligation demo of our system
Ask us how to get started using the contact form below